Spain on Terror Alert after France Attack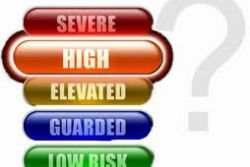 Spain is on terror alert following the horrific terror attack yesterday in France by two men armed with AK-47 machine guns which has left 12 people dead and 4 critically injured.
The gunmen stormed the offices of satirical publication Charlie Hebdo in Paris and hurled a volley of automatic gun fire throughout, before fleeing the scene in a black Citroen which was later found abandoned following a crash. The gunmen then carjacked a vehicle from an innocent bystander to continue their escape.
Spanish Interior Minister Jorge Fernández Díaz raised Spain's terror threat level to 3, the maximum being 4. He also held emergency discussions with security and law enforcement agencies.
Whilst a French and European wide manhunt is in full swing, Spanish authorities have stressed the terror level has been raised out of caution rather than responding to a specific terror threat and will remain so for the immediate future.
Airports and other transport services and critical infrastructures have been placed on alert. Travellers into, out of and around Spain should expect some delays with the extra security measures in place.
The attacks in France are believed to be connected to the publication of satirical content about Islam and Muslims, although the fear is this could be the beginning of a wave of terror attacks targeting western newspapers and publications.
Several media outlets in Spain, including the offices of El Pais had to be evacuated yesterday after receiving bomb threats.
Spain has been in the spotlight for many years by Islamic Jihadists who are keen to retake what they believe to be their land which was liberated by the Christians several centuries ago.
Many videos and photos have popped up on the internet of Spanish landmarks with the anonymous photographers holding Islamic State messages. Top of their list is Andalucía, known as Andaluz in Arabic.
People are being advised to go about their normal daily lives, but to be vigilant and report anything suspicious to the Police immediately.
Recommended Reading :
* Madrid's Atocha evacuated after bomb scare