Spain Urges EU To Suspend Borderless Travel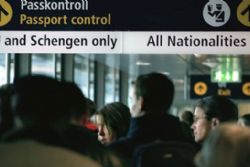 In an incredible u-turn by Spanish politicians, Spain is urging the EU to suspend borderless travel across the bloc in the wake of the terrorist attacks in France.
Known as the EU Schengen Area Treaty, there are 26 EU member states who have removed all border controls, including passport checks, between the members in the treaty. The treaty is considered a fundamental right, guaranteed by the EU and enshrined in law for its citizens.
Britain opted out of the Schengen Area Treaty preferring to retain control of its borders, although the migration of EU citizens into and out of Britain is largely unrestricted.
Voicing concerns over Islamic Jihadists travelling abroad for training or engaging in wars, Spain hopes to stem the flow of them returning to EU shores and travelling into Spain.
Speaking in an interview with Spanish newspaper El Pais, Interior Minister Jorge Fernandez Diaz said "We are going to back border controls and it is possible that as a consequence it will be necessary to modify the Schengen treaty".
Other EU political parties have voiced their support, most notably France's rightwing Front National who have long objected to France's open border policy within the EU. Eurozone sceptics will also be happy to see the Schengen Area Treaty suspended, if not abolished altogether.
However, the implications of suspending the Schengen Area Treaty could have serious implications if member states abuse the situation unrealistically. In theory, Spain could completely close the border with Gibraltar and not be under any obligation to open it again under the guise of controlling its own borders.
Gibraltar has long suffered under the tyrannical forces of Spanish aggression and a closed border would likely destroy the economy it has fought so hard to build.
Spain is also pushing for an EU wide passenger database it claims will aid in the sharing of passenger information between member states, however it would likely infringe the civil liberties of EU citizens.
Emergency meetings are being held across Europe to discuss security arrangements and greater cooperation between member states. A security summit, scheduled for mid-February, will also be held by the White House in Washington where several heads of state are expected to attend.
Recommended Reading
• Spain on Terror Alert Following France Attacks
• Spain Begins Tracking Its Citizens
• Spain Strong Arms US Congressman Over Gibraltar
• Gibraltar 'Not economically viable outside EU'