Catalonia takes election gamble to keep independence drive alive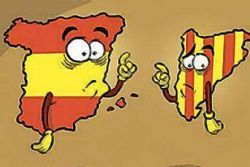 Catalonian leaders are hoping that a regional election in September will keep alive a fading independence drive and force the hand of Spain's central government - but the move could also backfire.
The long push for independence from Spain, which gathered strength during the economic crisis of recent years, is a big headache for PM Mariano Rajoy, who has taken a hard line on such ambitions.
Catalonia defied Madrid and went ahead with a symbolic vote on independence last November. The outcome, however, was mixed -- about 80% of the 2.2 million people who voted backed secession but the turnout was little more than 40%.
With a general election due in Spain by the end of the year, the Catalan parliamentary vote, called this week by regional President Artur Mas for Sept. 27, should force the issue to the fore of the national campaigns.
"Early regional elections will increase pressure on Madrid to offer concessions to the Catalans," said Antonio Roldan, an analyst at Eurasia Group.
Rajoy's team says he is unlikely to offer much to Catalonia, which is still highly dependent on Madrid for financing support, - in the run-up to the September poll or the general election, because it would alienate his People's Party's (PP) own voters.
The premier said on Thursday the election called by Mas made no sense.
"It is simply a clear show of the failure of a policy that has only generated instability and uncertainty," he said.
But the Socialist Party has called for constitutional reform in Spain and the debate on creating a more federal state or revamping the model for financing regions could start gathering steam.
A big show of support for pro-secession parties, including the one led by Mas, could at the very least give Catalan leaders more leverage to discuss some demands, including for more autonomy, as politicians try to woo voters from Spain's wealthiest and second most populous region.
HIGH STAKES
The September elections are, however, a high-stakes gamble for Mas and some of his allies as it risks exposing divisions in the pro-independence camp. It could also find it hard to keep up the momentum over the next eight months.
Like Rajoy's centre-right PP and the opposition Socialists, Catalan parties face tough competition from upstart anti-establishment party Podemos ("We Can"), which is gaining strong support across Spain and opposes Catalan independence.
Recent polls also showed Mas' Convergencia i Unio (CiU) alliance and the second party in the region, the pro-secession Esquerra Republicana de Catalunya (The Republican Left of Catalonia) falling well short of getting 50 percent of votes between them.
Though the 2 forces will run with a common "roadmap" they will not campaign with a joint list of candidates as Mas had pressed for, and they remain rivals.
He said on Friday that he hoped Catalans would back independence in the polls, although he was also ready to form a government in case they lacked a majority to move forward with secession from Spain.
"If the process is not ratified but I win the elections, I will try to govern," he told Catalan radio.
That could hamper attempts to portray the elections as a proxy for a referendum on independence, while even strong support for parties favouring a breakaway from Spain may not necessarily bring secession closer.
"In Scotland, the prospect of independence was certain - they were out if they voted "yes"," said Antonio Barroso, analyst at think tank Teneo Intelligence.
Scots voted to remain in Britain in a historic vote on independence held last September. The British government had agreed that if it would respect the referendum result either way. But Spain's central takes a firm stand that a vote on independence would be against the constitution.
"It's not so clear in Spain," Barroso said.
Recommended Reading :
* Spain's Catalonia court to probe regions head over independence vote
* Most Catalans would vote to stay in Spain : Poll