New Survey: The Future Looks Bright for Expat Workers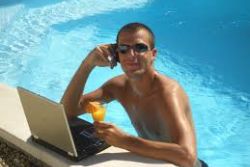 A new study has been released on the topic of expatriate recruitment, and paints a rosy picture of the future. The research, commissioned by Price Waterhouse Cooper, surveyed 193 companies in the UK, USA and Europe, and asked them about their hiring expectations in coming years.
For workers willing (or looking) to move abroad for work, the future seems tremendously bright. The study suggests that Western companies expect to increase their expat workforce by an average of 50% between now and 2020, provided unprecedented opportunities for suitably experienced individuals.
Right now the largest expat community of Westerners is Dubai, and both China and India have become growing powers in the expat recruitment market as of late. If the research is to be believed however, Europe could succeed in gaining dominance in the battle for the brightest minds and most skilled individuals on the market.
Large companies, it seems, are highly aware that an expat workforce has significant benefits. For one, it means that a company can recruit from a larger catchment area, meaning greater talent opportunities.
For another they can hire in a work face that has already developed relevant skills at a competitor, even if the company where they gained their experience is half way round the world. Lastly an international culture can lead to more constructive collaboration and greater growth opportunities.
Managing to recruit expat executives, for example, can help their new employers to gain access to new contacts and an international outlook, not to mention opening up additional funding opportunities.
This is the good news. Sadly, there is some rather less so. It seems that while many companies are bullish about hiring the best people – irrespective of where they live – many organizations lack the knowledge and infrastructure to manage this process.
For example the same study found that only 9% of companies had systems in place that allowed them to measure the ROI of shipping staff around the world at great expense. In addition, few of the firms surveyed had a full understanding of the legal and financial implications of shipping staff around the world and what rules they would have to meet in order to do so.
The message is clear; while some of Europe and North America's largest companies are positive about the benefits of expat workers, their management teams may have to work hard to put in place the necessary systems to make the most of a mobile, global work force.
Whatever the case may be, it seems that expat workers that are looking for opportunities would do well to gain experience in Western companies.
Building up experience – not to mention your reputation and contacts – can lead to opportunities in an area where considerable growth is anticipated.
Recommended Reading :
* Changes to Expat voting rules for Brits on the cards
* Countdown to change in UK driving licence law