Spain kicks off AENA share sale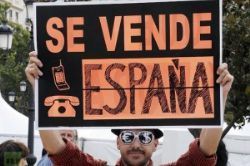 Spain has given the green light for the sale of a stake in airport group AENA, kicking off its biggest privatisation since 1997 and testing investor faith in the country's economic recovery in an election year.
Shares in the world's largest airport operator are expected to sell at EU43 to EU55 each, the prospectus said, valuing the whole of AENA at EU6.45 to EU8.25 Bln, as reported by Reuters on Thursday.
They will trade for the first time on Feb. 11 after a 49%stak e, or 73.5 million shares, are sold to institutions and individuals, according to the prospectus published after the government gave its final nod on Friday.
The final price per share will be set on Feb 9.
"This is a prime asset, there is demand, but it's all a question of price," a source at one of Europe's largest pension funds said.
The sale process has been an on-off affair, beset by political and technical complications which led its postponement at the end of October. But the company's prospects are improving.
A brighter business outlook as economic growth gathers pace, tourism picks up and oil prices remain low, was tipped to provide a higher valuation than initially expected, people familiar with the process had said.
AENA, which runs 46 Spanish airports and has stakes in London's Luton and airports in Mexico and Colombia, said it handles 187 million passengers a year.
Spain was the world's third most-visited nation in 2014, with 65 million visitors.
"We will have a sustained increase in passenger numbers, stimulating one of our country's most important sectors, tourism," Public Works Minister Ana Pastor told reporters.
The group undertook a complete overhaul to prepare for privatisation and its 2013 profit of EU597 Mln was its first since the start of the financial crisis, although the company still has net debt of around EU11 Bln.
Shares worth nearly 10% of AENA will be offered to retail buyers, a process that will be closely watched after the botched 2011 listing of lender Bankia, bailed out by the government a year later, where small investors lost money.
The centre-right government, lagging in opinion polls after an economic crisis from which Spain is tentatively emerging, wants the sale to go well with a general election due this year.
AENA gave no earnings forecasts in its prospectus, but one of the lead banks managing the sale has forecast growth in earnings before interest, taxes, depreciation and amortisation of 12% in 2014, and 5 percent in 2015 and 2016.
Recommended Reading :
* Spain beats annual tourism record with a month to spare
* Spain says no going back on AENA IPO