Rajoy : "Spain is the Sick Man of Europe"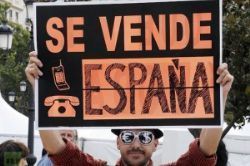 In an interview on Telecinco, Mariano Rajoy committed to "consolidating the recovery" so that within two years "there are a million more people in work" in Spain. Rajoy also expressed his conviction that "Greece will remain in the Euro" because "the government that has just been formed will meet its commitments".
The PM commented last Monday night in an interview on Tele 5, that his main concern and objective is "to consolidate the economic recovery and increase the number of new jobs created from 400,000 in 2014 to 600,000 in 2015, meaning that a total of one million more people will be in work over the final two years of the legislature, although we still have a lot more to do in the future".
In this regard, Rajoy recalled that unemployment is the most important problem affecting Spain and that, between 2008 and 2011, 3.4 million jobs were shed in our country.
"After 7years of job destruction, last year over 400,000 jobs were created. Rest assured that this was one of the happiest days of my life", Rajoy said. Despite this, Rajoy underlined that this figure is "clearly insufficient" and that we must push on with an economic policy that is leading to the results we need – albeit a complicated and difficult policy. "I am convinced that Spain will shortly recover the levels of well-being it enjoyed for so many years", he added.
In his opinion, the government is developing an economic policy that not only produces results but that is also laying "sound bases" for the future.
Rajoy recalled that in 2012, "Spain was the sick man of Europe, but that now we are growing more than Germany and we are the country creating most new jobs". "This makes sense; it has been tough and difficult, but the good part now begins", he claimed, after highlighting that these figures "help encourage us to keep working".
"The Spanish people knew how to hold on and found a way to avoid a bailout which would have forced us to reduce pensions by 10% as happened in other countries", he added. In his opinion, this was the best social policy decision that has been taken and demonstrates that in Spain there are many people who are both determined and courageous.
Greece will remain in the Euro
The Spanish PMalso referred to the results of the elections in Greece.
In Rajoy's opinion, this country "will remain in the Euro" and expressed his "absolute conviction" that the new Greek Government will meet the commitments made by Greece because, if it does not meet them and if every time there is a change of government in Europe we have to change everything, it would make it impossible for Europe to ever move forward.
According to Rajoy the economic crisis has led to the rise of radical parties but defended the argument that it has been the traditional parties that have made Europe great and which govern in those countries where there are the highest levels of well-being and wealth. "It is very easy to complain but very difficult to govern", he said.
Elections in Andalusia
Regarding the early elections in the Spanish province of Andalusia, Rajoy argued that elections should be held every four years and that "elections should not be held incessantly". In his opinion, these four years of government are necessary and early elections should only be called when a government is unable to approve the budget. For this reason, he highlighted that the holding of elections in March in Andalusia "makes no sense" although they are perfectly entitled to do so.
Rajoy said that the elections could have been held to coincide with the municipal and regional elections in May, because "we are starting down the road of economic recovery and hence generating factors of instability is hardly positive".
Recommended Reading :
* Rajoy : "2015 will be the year that the economy definitively takes off"
* Rajoy's anti-corruption measures : 2 years of nada