Brussels raises 2015 growth forecast for Spain to 2.3%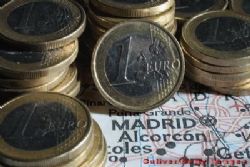 Brussels has raised its forecast for Spanish economic growth in 2015 to 2.3%, a significant increase from its previous prediction.
After reducing Spanish growth prospects from 2.1% to 1.7% three months ago, the European Commission is now optimistic enough to have applied the biggest upward revision in the entire eurozone to Spain.
After several years of doom and gloom, Brussels is now holding Spain up as a role model for others to follow.
After 3 years of recession, the Spanish economy began to grow in 2014 and appears to be consolidating on the back of an improved labor market, better financial conditions, increased confidence and falling oil prices, according to the EC report, which was presented on Thursday.
This radical turnaround vindicates Spain's PP government, which had openly criticized Brussels' pessimistic views in November. Now, the EC is even more optimistic than the IMF which recently forecast 2% growth for Spain in 2015.
The revised figures are the result of increased domestic demand fueled by expectations of an incipient recovery and timid job creation, coupled with better financing conditions and falling oil prices. These are making up for lower exports.
Greater output, however, will not translate into similar progress for the Spanish labor market, where the unemployment rate is expected to remain above 20% until at least late next year.
The jobless rate is expected to fall to 22.5% this year and to 20.5% in 2016 after four years of labor cost reductions, which essentially mean wage cuts that are practically unmatched in any other European member state.
Brussels also feels that Spain will miss its deficit target of 4.2% of GDP by three tenths of a point in 2015. The reason for this negative outlook is the tax reform promised by the Mariano Rajoy administration, and the fact that 2015 is an election year, which means the government will be loath to make any spending cuts that might anger voters.
While used as a guide, Brussels' economic forecasts have systematically been wrong in recent years, sometimes remarkably so. Its November outlook failed to anticipate how the Spanish economy would perform only a month and a-half later.
Recommended Reading :
* Rajoy : "Spain is the sick man of Europe"