Movistar, Vodafone Spain lose 80,000 mobile customers in Jan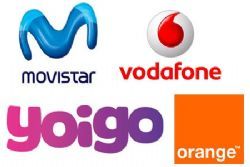 Movistar and Vodafone Spain shed 46,500 and 33,000 mobile customers respectively in January, mostly to Jazztel and low-cost MVNOs, according to the monthly survey reported in the website ADSL Zone. Even Orange Spain, which is in the process of acquiring Jazztel, shed a net total of 16,000 customers in the first month of the year, although its low-cost brand Simyo offset that figure with a net gain of 16,400 customers.
Jazztel attracted a further 37,000 mobile customers thanks to the success of its fixed-mobile convergent packs. Ono, which was acquired by Vodafone in July, gained 15,000 mobile customers but Spain's fourth largest mobile operator, Yoigo, continued to shed customers, losing some 9,000 ported numbers.
Other MVNOs with a positive balance in portability were MasMovil, Euskaltel, Pepephone and R, which attracted 6,800, 5,500, 5,000 and 3,800 customers respectively. Vodafone's new low-cost MVNO brand, Lowi, also had a positive first month, having attracted around 10,000 customers since its launch on 18 December.
Recommended Reading :
* Voting underway for Spain's worst company 2014
* Spain's worst mobile phone operator : Survey