Ryanair : "No interest in flying to Castellon Airport"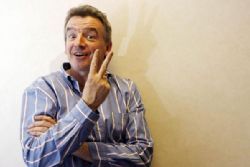 Ryanair will operate 121 weekly flights from Valencia for the summer season of 2015, which commences March 31st.
The number of aircraft based at Valencia Airport will remain the same as last year - three - and will fly to a total of 26 destinations, which will include daily flights to Brussels and Rome, and bi-weekly flights to Manchester.
Ryanair's Financial Director, Neil Sorahan, told the press last week how the Airline expects to carry over 1.6 million passengers and "maintain 1,600 jobs today "at the airport.
In 2014 the airline carried a total of 1,594,723 passengers to Valencia airport - well above Air Europa (571,315 passengers) and Air Nostrum (529,778 passengers).
However, the figures were still 200,000 passengers down on 2013, when 1,803,020 passengers were served.
Sorahan explained that whilst the 3 Valencia-based aircraft and 26 routes planned in 2015 does not reflect any increases on 2014, but that the company expects to "grow quickly from Valencia", and that Ryanair has saved passengers flying to Valencia some EU187 Mln since flying to the airport.
On being asked about the possibilities of establishing routes to the region's Castellon Airport - located just 100km away - the Airline said that whilst there were no definite plans, it would "always consider all options".
Ryanair maintained stipulated that a key requirement when considering any new destination was that passengers could disembark within 25 minutes of the aircraft landing to ensure a prompt turnaround.
As far as Spain is concerned, in 2014 Ryanair had an 18% market share with 32 million customers last year, which Sorahan said was a record year with an average occupancy rate of 87%.
Recommended Reading :
* Air Europa interested in flying to Castellon Airport
* Airline declares no interest in flying to Castellon Airport