Spain's Podemos leads opinion poll, but may have peaked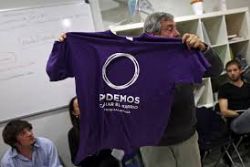 Anti-austerity party Podemos is set to win a Spanish general election due this year, according to a poll published in newspaper El Pais on Sunday, but support for the leftist party may be showing signs of fatigue.
The poll made clear that the two parties which have dominated politics for decades, the ruling centre-right PP and the PSOE, are struggling to counter new rivals.
Podemos (We Can), led by a plain-speaking 36-year-old with a doctorate in political science and a masters in communication, has drawn comparisons with the left-wing winner of Greece's election, Syriza. The poll showed Podemos winning 27.7% of the vote, down a touch from 28.2% 1 month ago.
"David can beat Goliath, but it's not easy," Podemos' leader Pablo Iglesias told a political rally on Sunday.
The ruling PP recovered some ground from last month to take 2nd place with 20.9% versus 19.2%. But the PSOE shed more than 5 percentage points to slip to 3rd place with 18.3%, the survey conducted via 1,000 telephone interviews showed.
Ciudadanos (Citizens), social democrats who defend national unity and have drawn voters on the left and right disenchanted with corruption in politics, saw a 4 percentage point rise to 12.2%. That could place them as a potential kingmaker in the case of a hung parliament.
Recent polls seem to point to a minority government after an election, widely expected to be held towards the end of 2015, meaning pacts or a coalition will be necessary to govern.
But pollsters warn of the difficulty of estimating seats in congress given one-year-old Podemos did not exist at the last general election, and Ciudadanos only operated in the Catalonia region at that time but is now a voter option nationwide.
Abstention is expected to be high at some 28%, according to Sunday's poll by Metroscopia.
Spain is emerging from a 7-year economic slump as one of the euro zone's fastest growing countries, but millions of households have yet to benefit from the upturn.
While the PP and PSOE accounted for 73.3% of the vote at the last general election in 2011, their current combined score comes in at under 40%.
"The public seems prepared to radically change the old set-up," Jose Juan Toharia, the chairman Metroscopia, said in a comment accompanying Sunday's survey.
Podemos is an anti-establishment party that has tapped into Spaniards' austerity fatigue and widespread anger at "la casta", as it calls the country's business and political elites.
In a provisional manifesto, the party says it will cut the working week and raise the minimum wage. But it has backed away from some of its more radical plans, such as nationalising Spain's utilities.
Recommended Reading :
* 100,000 People march in Madrid to support Podemos
* Podemos "Most popular party in Spain" : Poll