Spain's AENA valued at EU8.7 bln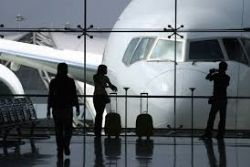 The stock market flotation of Spanish airport group AENA will value the company at EU8.7 Bln, after the final price was set at EU58 per share, according to media reports on Monday.
State-owned AENA had earlier raised the price range on the initial public offering to between EU53 and EU58 per share, from EU43 to EU55 previously, as the country's biggest privatisation since 1997 drew strong demand.
The shares are due to start trading on Wednesday. The state is planning to sell 49% of the company in total.
Initially 21% of the public offering had been earmarked for 3 core shareholders, Spain's Corporacion Financiera Alba, British fund TCI and Ferrovial.
They had offered to come in at a lower price, however, and the jump in valuation has made it increasingly likely they could be edged out of the listing.
Alba has already abandoned plans to buy into the IPO, a source said last week. TCI and Ferrovial did not immediately respond to requests for comment on Monday.
AENA's privatisation was postponed last October, when the government decided it needed a tender to pick an auditor to sign off on one part of the listing prospectus.
The flotation has been touted as a test of investor faith in a recovery of the Spanish economy, with shares also being offered to retail buyers.
Recommended Reading :
* Demand for shares pushes up Spain's AENA IPPO price
* Spanish airports to see 25 days of strike action