400 Migrants rush Melilla border, 35 succeed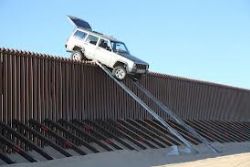 Around 35 sub-Saharan migrants successfully crossed the border between Morocco and Melilla early on Tuesday.
The group succeeded after repeated attempts to storm the fence separating the two during the night by a larger group, estimated to be 400 strong.
According to local security sources, the successful group managed to reach the local migrant holding center (CETI), whilst a further 20 have been clinging to the border fence for hours at the border crossing used by Moroccan workers to reach the Spanish enclave, which has since been closed.
Three of the immigrants who reached the holding center are being treated in hospital over injuries sustained during their attempts in crossing the border.
Pressure on Melilla has increased over the past few days after the Moroccan government announced that temporary camp sites erected by the would-be migrants near Ceuta and Melilla will be dismantled.
This latest surge of illegal immigrants come almost one year to the day since 15 migrants dies while attempting to swim around the border from Morocco to the neighboring enclave of Cueta.
Recommended Reading :
* Spain accused of violating EU border laws in Ceuta and Melilla
* Spain called upon to explain immigrant shootings