Spain's King Felipe lowers his salary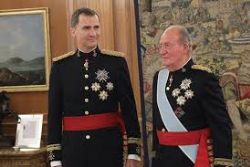 King Felipe VI has decided to slash his own salary 20 percent in the first royal budget he has approved since his accession to the throne in June of last year.
But the reduction, which brings the monarch's annual wages down to €234,204, will not produce any overall savings for the taxpayer, as Felipe VI has raised the allocation for other items, bringing the total amount that the royal palace receives from the state back to the usual €7.7 million.
The Spanish Constitution says that the monarch can freely assign this money as he sees fit. In order to establish his own salary and that of his father Juan Carlos – who gets an allowance as former king – Felipe VI consulted with other European heads of state, including monarchies and republics, said sources at La Zarzuela, the royal residence.
Meanwhile, Queen Letizia will make €128,808, or 55 percent of her husband's salary. And Do๑a Sofํa, Felipe's mother and former queen, will earn €105,396.
Felipe VI's sisters Cristina and Elena will not receive an allowance, as they were formally excluded from the royal family when Felipe was crowned.
Cristina has furthermore been dropped from all royal activities - including her brother's coronation, which she did not attend - following her involvement in the Noos scandal, which has seen her and her husband facing accusations of tax fraud and embezzlement.
While reducing family wages and personnel expenses, the king raised the allocation for "investments" by €140,606, and the "contingency fund" by €104,791.
"It is the king's will to have more money for the computerization and technological overhaul of the Royal House," said a palace spokesman. The institution is planning to spend €650,000 on a complex computer system called Rutecar that will connect all areas of the royal house and manage all documents, videos and photographs created within.
Last year, the Crown also spent €62,000 on a public relations consulting firm that analyzed all comments made about the Spanish monarchy and its members on social networks, websites and blogs.
The travel budget for palace personnel is also being reduced from €190,000 to €130,000. Travel expenses incurred by members of the royal family are covered by the government.
Since his accession to the throne, King Felipe VI has aimed to portray the monarchy as more modern and transparent through measures like barring members of the royal family from working in the private sector, or drafting a code of conduct stating what kind of gifts members may accept.
These early steps sought to counter rising republican sentiment and low popularity rates for the Spanish monarchy in the weeks prior to his own coronation.
Recommended Reading :
* New King Felipe VI Euro coins go into circulation
* King bars Royals from taking presents