Judge sets €800m civil bond for former chiefs at Bankia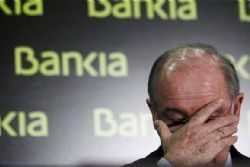 A Spanish judge has set a bond of €800 million to cover potential civil liabilities for the former heads of savings bank Bankia, as part of an investigation into alleged wrongdoing during the creation and stock market debut of the lender. The bond has been imposed on Bankia and its parent company BFA, as well as on past bank executives such as ex-chairman Rodrigo Rato, who is also a former managing director of the International Monetary Fund.
Judge Fernando Andreu believes that offenses covered by article 282 of the Spanish penal code may have been committed. This legislation punishes administrators of a company that issues falsified financial information in the prospectus of any financial instrument.
According to the judge, an investigators' report into the actions of the bank clearly reveal "that the financial conditions contained in the IPO of Bankia did not reflect a faithful image of the lender."
The judge justified the amount of the civil bond by saying it covered roughly a third of the value of the shares bought by ordinary investors.
Bankia is an umbrella lender that was created by the merger of seven of Spain's struggling savings banks, including Caja Madrid. The failed savings bank was once Spain's fourth-largest lender, with more than seven million customers and annual earnings of over €2 billion during the real estate boom.
Both Bankia and its predecessor Caja Madrid have been hit by a number of scandals, including recent revelations that board members and top-level executives racked up personal expenses totaling €15.5 million over 10 years using undeclared company credit cards.
Recommended Reading :
* Voting underway for Spain's worst company 2014
* Spanish banks reported for illegal fees