Pakistan leader pleads for re-establishment of flights to Spain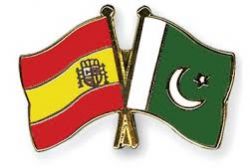 The Leader of Opposition in Pakistan's National Assembly has written directly to the country's Prime Minister over the closure of Pakistan International Airline's routine flight to Barcelona, citing a lack of interest.
"The closure of PIA flight operation to Barcelona has aggravated the plight and miseries of Pakistani community residing in Spain as the vast majority has left with no other option if they wish direct flight," said Syed Khursheed Shah in a letter to PM Nawaz Sharif.
Shah said that Pakistanis in Spain would no longer be able to bring dead bodies of their loved ones to Pakistan for burial free of cost as this facility ends with the closure of PIA flight operation to Spain.
"PIA started flight operation on this route in 2009, with three flights per week. But over the period of time the number of flights was reduced and since February 07, 2015 PIA flight operation on this route has been brought to a complete halt despite of enough business activity," Shah said in a letter.
"I shall be grateful if you take notice of this unwise step from Pakistan's national carrier.
The decision needs to be reviewed and reverted on immediate basis to provide some relief to the Pakistani community living in Spain," he mentioned in his letter.
Spain's 2011 census placed the number of Pakistani Citizens legally resident in Spain at 69,481.
The opposition leader had written second letter to the prime minister in a week as in his previous letter he raised concerns about changing the original route of Pak-China Economic Corridor, which would badly affect the smaller provinces.
There are currently no major airlines offering direct flights between Pakistan and Spain.
Recommended Reading :
* Spain to help Pakistan in energy infrastructure development
* Spain warns of high risk of new Islamist attacks