France & Spain to ease Pyrenees power bottleneck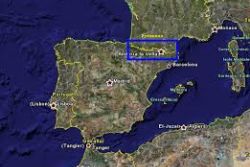 French and Spanish power grid operators have completed a long-awaited power line across the Pyrenees that will allow export of excess Spanish renewable energy and ease one of the worst network bottlenecks in Europe.
RTE, a unit of French utility EDF, and Spain's Red Electrica are due next week to inaugurate the 1,400-megawatt (MW) cable that will double French-Spanish interconnection capacity to 2,800 MW, equivalent to the output of three nuclear plants.
Testing is due to begin this month and commercial operation in June.
The 65-km (40-mile) link will be the world's longest underground high-voltage cable, entirely buried at a cost of EU700 Mln to keep the pristine eastern Pyrenees mountain range free of power pylons.
Financed partly by a EU225 Mln EU subsidy and a EU350 Mln loan from the European Investment Bank, the project will boost security of supply in both countries, allow exports of Spanish wind energy to Europe, and should lower power prices by smoothing out cross-border peak demand.
Daily peak demand is around 7 p.m. in France and about two hours later in Spain. France, heavily reliant on electric heating, imports excess power from Spain in the winter and exports its cheap nuclear power to Spain the rest of the year.
"Boosting interconnections will allow a better use of Spain's renewable energy, which will benefit French and European consumers," RTE's Europe director Jean Verseille said.
The line will lift Spain's interconnection capacity (including to Portugal and Morocco) from 3 to 6% of its generation capacity, but that will still be short of an EU target of at least 10%. It will also be insufficient to export all of the country's potential excess power.
To make up for its isolation, Spain invested heavily in thermal and renewable power capacity just before the economic crisis crimped demand.
In 2014, its installed capacity stood at 102 gigawatts (GW), more than double the 39-GW maximum peak power demand last year. Spain has 30 GW of renewable capacity, mainly wind, and 20 GW of hydropower, run by firms such as Iberdrola, Endesa and Acciona.
A planned second cable to run underwater past the west side of the Pyrenees will lift French-Spanish interconnection capacity further to 5,000 MW. It is not expected to come online until after 2020, Verseille said.
Boosting links to isolated power markets such as Spain, Portugal, Italy, Britain and Ireland is a key plank of European Commission chief Jean-Claude Juncker's stimulus plan announced last year.
Spanish utilities have long complained France was slow to lay new cables in order to protect its power market.
No new interconnections had been built since 1982. Former European Commissioner Mario Monti brokered an agreement on the new cable between the two countries in 2008.
RTE has said the delays were due to citizen resistance against building power lines through the Pyrenees.
The line runs in trenches along TGV train tracks between Perpignan, France and Figueras, Spain. Where it crosses the Pyrenees, it runs through a purpose-built 8.5-km tunnel.
RTE said half of the EU700 Mln investment was for Siemens-built stations that convert alternate into direct current, which runs for miles without power loss, and which can quickly change power flow direction.
Its high-tech DC cables designed by Italy's Prysmian , and costing EU250 Mln, are insulated with polyethylene to avoid the use of oil inside the cable casing and minimise environmental risk.
Recommended Reading :
* Spain sees average electricity bill increase 13.3% Jan-Dec 2014
* Spain and France agree cross-border electricity links