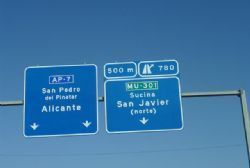 Murcia's President Garre has stated how he wants Corvera Airport to open "soon, but not at any price". As such he would not be drawn into giving a firm date for when the facility is expected to open its door to the public.
The construction is completed, but is not currently operational due to "the previous concessionaire failing in its plans to open in April of 2014 ", he told the Regional Assembly last week.
Garre appeared at his own request in order to give an update on the Corvera Airport project where he told the house that the focus was now on two fronts : Judicial and Administrative.
The first problem to be addressed is to resolve the dispute between the Regional Government and former concession holder Aeromur in recovering the EU182 Mln (plus interest) loan guarantee.
The second is that of finding a suitable new party to manage and operate the facility - which may still come at a cost to the regional tax-payer.
Garre insisted that the airport remains "absolutely necessary" for the development of regional commerce and tourism, and that the closure of San Javier Airport would not affect the 80 direct and 400 in-direct employees, as these (and more) would all be transferred to Corvera Airport upon its' closure.
The Opposition parties all questioned the process of transferring operations between San Javier to Corvera Airport, with the spokesman for the IU-Verdes, Antonio Pujante, reminding the assembly that the region was paying EU22,000 in interest alone for each day that Corvera airport remained closed.
Recommended Reading :
* Murcia's San Javier Airport to close within 6 months of Corvera opening
* Murcia's Corvera Airport 'Will cost money - not generate wealth'