Spain's Caixabank bids for Portugal's BPI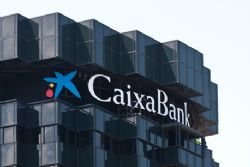 Spain's Caixabank bid for full control of Portugal's 3rd-largest lender Banco BPI on Tuesday and confirmed plans to pursue an acquisition of state-rescued Novo Banco to challenge for market leadership in the country.
The Barcelona-based lender was one of Spain's most acquisitive banks during the financial crisis, offsetting falling profitability in the Spanish market by buying up smaller savings banks hit hard by a property market crash.
Analysts and investors broadly welcomed a move which placed an EU 1 Bln valuation on the outstanding 56% stake in BPI that Caixabank does not own.
Shares in BPI jumped 25% to EU1.310 by 1215 GMT (07:15 a.m. EST), close to the EU1.329 per share Caixabank offered.
Caixabank shares slipped two percent. The BPI acquisition has cut its core tier one ratio, a key measure of financial strength, by between 80 and 140 basis points. The bank said it would not rule out a capital increase to bolster its capital defenses, a move that had been expected.
With a smaller international business than Spanish rivals Santander and BBVA, Caixabank had built up a 44% stake in BPI alongside stakes in Hong Kong's Bank of East Asia, France's Boursorama, Austria's Erste group and Mexico's Grupo Financiero Inbursa.
Gonzalo Gortazar, Caixabank's CEO, talked up the potential benefits of the BPI deal.
"It's something we want to achieve, it's logical, it's low risk, it generates value and it's the right move for Caixabank and BPI," he said.
He also confirmed that Caixabank was one of a long list of suitors for Novo Banco. "It's an opportunity for domestic consolidation and it would be odd for a large domestic bank... not to analyze that in some detail," said Gortazar.
BPI and Novo Banco would put Caixabank in a position to vie for market leadership with Portugal's largest bank, the state-owned Caixa Geral de Depositos, and top listed bank Millennium bcp.
NOVO BANCO ATTRACTS INTEREST
Portugal hopes to sell Novo Banco in the first half of 2015 to recover EU4.9 Bln in rescue loans, mostly in public funds, that it injected last August to prevent the collapse of lender BES.
The Bank of Portugal on Monday trimmed the list of potential bidders for Novo Banco to 15, who have until March 20 to present non-binding offers.
BESI analyst Juan Carlos Calvo said the BPI bid was very attractive for its shareholders and slightly positive for Caixabank as it would give direct access to the Portuguese market. Although the premium was high, its post-transaction capital ratio should still be reasonable.
BPI's other large shareholders are Santoro Finance, a company owned by Angolan billionaire businesswoman Isabel dos Santos, the daughter of the African country's president, and Germany's Allianz financial services group. Santoro holds an 18.6% stake and Allianz has 8.4%.
The deal is expected to provide synergies worth EU130 Mln a year from 2017 and overall net present value synergy gains worth EU650 Mln.
Recommended Reading :
* Caixabank rolls out contactless wristbands across Spain
* Britain's Barclays to sell Spanish assets to Caixabank