Spain : There are "red lines" for agreement with Greece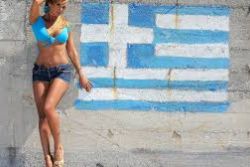 The Greek government must make clear what it wants to do to break a deadlock over its debt but other countries have set a series of red lines for an agreement, including full repayment of its debt, Spain's economy minister said on Tuesday.
Luis de Guindos said there was an "important distance" between the position of the Greek government and creditor institutions.
"What the Greek government has to do is to make clear what they want to do and what they are prepared to do and there are a series of red lines ... The debt has to be paid completely," he told reporters as he arrived for a meeting of European Union finance ministers.
"The ball is in the court of the Greek government ... Logically, we will try to avoid failure. Spain has a constructive attitude within the rules," he said, denying that Athens faced an ultimatum.
Recommended Reading :
* Spain can't afford to write off Greek debt : Rajoy
* Rajoy : "Spain is the sick man of Europe"