Uber begins food delivery service in Spain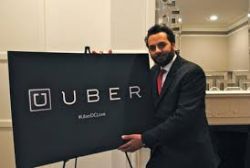 Uber Technologies Inc has extended its UberEATS restaurant delivery service, already operating in Los Angeles, to Barcelona, the online car ride provider said on Thursday.
Worth more than $40 billion, Uber has been banned from operating its ride service in Spain, South Korea, India and France while it fights legal claims against alleged violations including using unlicensed drivers.
The food delivery service, subject to fewer regulatory restrictions than taxi-ride operations, will make use of its already established network of users in Barcelona.
The ride service was briefly available in Madrid before the legal case began.
Recommended Reading :
* Uber complies with Spain's court ban
* Uber still operating despite court ban