Madrid warns Metro staff to monitor Gays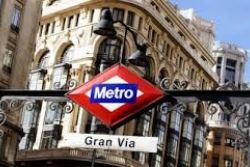 A leaked memo that was shared to Madrid metro staff urged them to be vigilant went checking gay people's tickets.
According to The Guardian, the memo told staff to be extra vigilant when checking the tickets of "musicians, beggars and gays".
Authorities at the metro have opened an investigation into the internal memo, which claimed that the groups identified might not have valid tickets. They have now officially condemned its release.
On Twitter the managing director of the metro, Ignacio González Velayos, called the memo "unfortunate". He confirmed that an investigation was underway.
Teodoro Piñuelas, from the UGT trade union, told Spainish newspaper El País: "I don't understand why it would assume that homosexuals wouldn't pay for their tickets and that they need to be monitored. Why not tall people, or blondes or those who wear glasses?"
Local LGBT groups are now urging the metro's authorities to start a campaign against discrimination. LGBT group COLEGA-Madrid called it "humiliating and discriminatory".
Recommended Reading :
* Victims of Homophobic attack in court for indecent exposure
* UK MEP slams Spain's blame of crisis on Gays