Spain tops list of favourite retirement destinations in Europe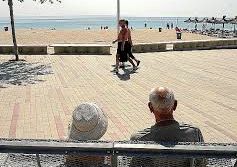 With almost 1 in 20 of us considering moving abroad in 2015, the obvious question is really where we should consider actually going to. After all, the world is a very big place. Expatriate Healthcare News recently reported on the best places to retire abroad according to International Living, but possibly the most noticeable thing about the three finalists is that none of them were based in Europe.
This is many ways a result of the higher costs of living in Europe, but we're also well aware that many expats would rather stay within the Eurozone. After all, moving to another country within Europe not only requires less paperwork but also means you'll remain closer to friends and family.
So the obvious question is which European countries make the best retirement destinations? To this end we scoured the rankings in order to bring you the top three European retirement destinations.
As a reminder the publisher uses a huge range of metrics in order to make these calculations, including the quality of healthcare that can be expected in each country, the cost of property and overall cost of living. The index also looks at the infrastructure, climate and whether retirees receive any kind of discounts or benefits for moving to each country. Each of these categories is given a score out of 100, and the average of all the various categories makes up a country's final score.
According to the latest retirement index the number one retirement destination in Europe for 2015 is Spain. Its healthcare system is regularly rated as one of the best in the world, while it has some of the lowest costs of living anywhere in Europe. Property, in particular, is very reasonably priced meaning that many expats can afford a home considerably larger than what they could afford back home.
Closely behind Spain comes Malta, with its English-speaking locals and stunning year-round climate. What makes Malta all the more appealing is just it literally drips with culture and history – from UNESCO-listed Valetta to the ancient monuments of war from when Nazi Germany landed here in World War 2. This wasn't by accident; Malta's location in the Mediterranean Sea means it is perfectly located for exploration of the area – something that should be just as appealing for expats today.
Thirdly, and finally, Portugal slips in at position number three. Always a firm favourite with retirees, the climate in The Algarve means year-round sunshine and reasonable temperatures, even in the depths of winter. Still largely under-developed, Portugal offers stunning countryside vistas and some of the finest fresh food in the world. While the cost of living may be higher than Spain, healthcare is generally considered on par.
Recommended Reading :
* Expats urges to vote in UK general election
* 5% of Brits plan to move abroad in 2015