Rajoy accused of lying by opposition leader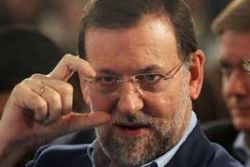 Spain's State of the Nation Debate, which began with a triumphant speech by Prime Minister Mariano Rajoy, descended into a tense face-off between the leaders of the two main parties on Tuesday afternoon.
Socialist leader Pedro Sánchez accused the PM of "lying" and linked his name to corruption, while Rajoy retorted by describing his opponent as "pathetic."
Speaking for the first time as secretary general of the Socialist Party (PSOE) at a State of the Nation Debate, Sánchez sought to deconstruct Rajoy's assertions on the economy and to portray him as an elitist politician who is soft on corruption and out of touch with reality.
"The Socialist government avoided the bailout and you brought it here. You lie, Mr Rajoy," he said, in reference to the banking sector's 2012 financial rescue package. "And you did not talk about the more than three million long-term unemployed in our country."
The main opposition leader also brought up the issue of corruption, which has particularly affected the ruling PP through scandals such as Gürtel, a massive kickbacks-for-contracts scheme whose ramifications are still being investigated in the courts.
"I am a clean politician. But your name and your personal history are linked to Bárcenas," stated Sánchez, in reference to the ex-PP treasurer Luis Bárcenas, who allegedly kept secret side accounts detailing illegal party financing and under-the-table cash payments to party leaders.
Sánchez also told the conservative PM that he is out of touch with Spaniards' everyday concerns.
"You don't trust the people you govern because you don't know them; get out of your plasma screen, go out on the streets," recommended Sánchez, referring to Rajoy's habit of appearing at press conferences via video link.
The conservative leader adopted a condescending tone to return the blows.
"I think you read the wrong speech. You would've done better with a more balanced, moderate, sensible speech," said Rajoy. The veteran politician then aimed more verbal blows at the 42-year-old opposition leader, who was elected in primaries last year in an effort to breathe new life into a party that was languishing at the polls.
"Mr Sánchez, I take you a lot more seriously than many of your own people do," he told him. "You were pathetic."
The tone reflected a new sense of urgency among Spain's main political parties, which are facing an unprecedented situation since the return of democracy in the late 1970s.
The protracted economic crisis has given rise to new political protagonists, who have real chances of success at this year's general elections. If voter intention polls are correct, Podemos, the new anti-austerity party, and Ciudadanos, a non-nationalist Catalan party that will run at the national level, will secure enough congressional representation to end the PP-Socialist hegemony.
The Socialists were dealt a crushing defeat in November 2011 elections after voters blamed the administration of Prime Minister José Luis Rodríguez Zapatero for mismanaging the economic crisis and making budget cuts to the welfare state in an effort to avert a national bailout, such as the ones Portugal, Greece and Ireland were forced to request.
Now Sánchez is seeking to position his party somewhere between the "immobility" of the ruling Popular Party (PP) and the "breakaway" of Podemos.
"Faced with the breakaway of some and the immobility of others, I defend my party's constitutional reformism," said Sánchez, who proposes making changes to the 1978 Constitution. "It is as much of a mistake to not change a single comma as it is to liquidate our democratic Constitution."
Recommended Reading :
* Rajoy : "There is no such thing as generalized corruption in Spain"
* Rajoy to declare new anti-corruption law