Spain's Bankia to publish results on Saturday, without liability bill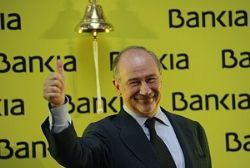 Spanish state-owned lender Bankia is to publish its results on Saturday, even as uncertainty remained unresolved over liabilities linked to its public listing which prompted a one-month delay in the earnings' publication.
Spain's High Court last week requested Bankia, its parent company BFA and several former executives to deposit EU800 Mln against those potential liabilities by Mid-March, the latest step in a case that has come back in recent months to haunt the bank's recovery.
However it was still not clear how the liabilities will be shared out.
The bank postponed the release of its 2014 annual results on Jan. 30, saying it wanted to await a decision on how the possible compensation bill will be split between itself and the state.
But while Economy Minister Luis de Guindos told Reuters earlier this month Bankia would likely shoulder around EU230 Mln, while BFA would pay the rest, senior sources with knowledge said afterwards no decision had yet been made.
Bankia, once the symbol of Spain's financial crisis, overhauled its business following a costly bailout and is expected to post a EU1 Bln net profit for 2014 which would clear the way to restart dividend payments.
The uncertainty over the final bill has been hitting the lender's shares, which have dropped 12% over the last 3 months, the biggest losers in Spain's Ibex 35. They were up 2.1% at EU1.25 at 1100 GMT.
Recommended Reading :
* Judge sets EU800 Mln civil bond for former Bankia Chiefs
* Voting underway for Spain's worst company 2014