Calls for Governor of Bank of Spain to step down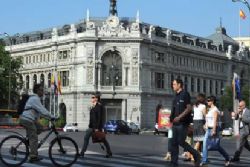 Bank of Spain Governor Miguel Angel Fernandez Ordonez is facing calls from bankers and members of the country's central bank to step down, El Mundo reported, citing unidentified people from the country's ruling People's Party.
Pressure is mounting for a new round of consolidation in the Spanish banking industry to be carried out under the supervision of a new governor, the newspaper cited the people as saying.
Be the first to comment on this Story !!