Glossary of useful Legal, Financial & Procedural Phrases
It is always useful to be familiar with various words and phrases that can occur wherever and whenever you are faced with any kind of bureaucracy in Spain. You might want to print our this page and keep it with your legal documents.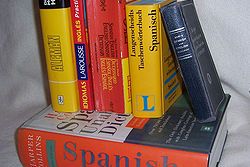 Autonomo = A Person who has registered as being self employed
Baja = A Doctors Sick Note
Basura = Rubbish Collection Tax
Cedula = Certificate of Habitation
Certificado de empadronamiento (pardon) = Town Hall Register (Electoral Role)
Certificado de empadronamiento = Town Hall Register (Eletoral Role)
Certificado literal de nacimiento = Official Birth Certificate
Cheque Bancario = Bankers Draft
Comisaría de policía provincial = Provincial Police Station
Convenio Colectivo = Employment Regulation Categories
Debito = A Payment Out
El Alcalde = The Mayor
El Ayuntamiento = The Town Hall
Embarazada = Pregnant / Pregnancy
Escritura = Full title Deeds of Ownership
Extranjero = Foreigner
Fichas Technicas = Ownership and Registration Documents
Giri = Slang for a Disagreeable Tourist
Hacer Puente = To extend the Fiesta for a day up to / From the weekend
Hacienda = The Tax Office
Hipoteca = Mortgage
Homologation / Convalidation = The Process of confirming standard of learning in the UK
Impuestas de Circulation = The Importation Tax due
Impuesto de Transferencia de Propiedad = property Transfer Tax
Impuesto sobre Bienes Inmuebles (IBI) = Yearly property Tax
Impuesto sobre circulation de vehiculos = Vehicle Import Tax
Ingresso = A Payment in
ITV = The Spanish equivalent of MOT
Jefatura de Trafico = Local Traffic Office
Libreto = Your Bank Book
Libro de Familia = Family Book issued by the Town hall that includes family details
Multas = Traffic Fines
Navidad = Christmas
NIE (Number Identification de Extranjeros) = National Identification Number for Foreigners
No qiero Conecer el sexo del bebe = I don't want to know the Sex of the baby
Nomina = A Deduction taken off your gross salary
Nota Simple = A Shortened version of Title Deeds
Oficina de extranjeros = Foreigners Department (within the Police station)
OMIC / Oficina Municipal de Información del Consumidor = Similar to Citizens Advise Bureau
Pascua / Semana Santa = Easter / Holy week
Permiso de Circulacion = Road Tax, usually issued by and Paid to your local Town Hall
Permiso de circulación = Vehicle registration document
Plusvalia = Capital Gains Tax
Registro Civil = Civil Registry Office
Registro general de actos de ultima voluntad = The National Spanish Archive of Wills in Madrid
Seguridad Social = Spanish Social Security
Servicio Ejecutivo para la prevencion del Blanqueo de capitals (SEPBLAC) = The Government Agency responsible for Investigating Black Money
Sueldo en Bruto = Gross Annual Salary
Tantoria = Chapel of Rest, where the Body lies in peace until the Funeral
Tarjeta Debito / Credito = Your Bank Card
Temporal = Wording indicates short term contract for rental
Testamento = Will (Of which there are 3 different types)
Transferencia = A Bank Transfer
Un certificado literal de nacimiento = Full / Detailed Birth Certificate
Un extracto de inscripción de nacimiento or certificado simple = Short Birth Certificate
Vivienda = Wording Indicates a Long Term Contract for rental
Be the first to comment on this Article !!