Rajoy and Rubalcaba meet for lunch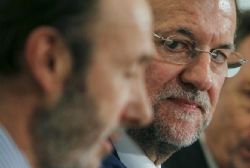 Rajoy and Rubalcaba met yesterday over lunch to agree upon the renewal of the composition of key state institutions by the start of summer.
The institutions they agreed to review include the Constitutional Court, the Court of Auditors, the state broadcaster and the office of the Ombudsman.
The Socialist leader described his first personal meeting with the PM as "honest and sincere." The two agreed to forge a joint stance in matters of foreign policy, defense, and the fight against terrorism as "policies of state."
Rubalcaba also reiterated his pledge to head a "useful opposition" to the conservative Popular party government, and agreed to work with the on the "structural reforms" Spain needs.
However, the leaders agreed to disagree on a number of issues, notably the details of last week's labor reforms, with the PSOE pledging to push for ammendments to the decree.