Spain hosts 13 of Europe's 'Top 100 Restaurants'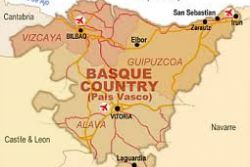 Azurmendi - located in the Pais Vasco - and already in possession of a three-star Michelin rating, has just been named best restaurant in Europe according to Opinionated About Dining's annual survey.
Situated just outside of Bilbao, Azurmendi is a gourmet hotspot where chef Eneko Atxa is pushing the boundaries of modern cuisine, pioneering new techniques to yield ever more spectacular results, all while celebrating the traditions of the his native Basque region.
The chef's signature dishes include ashes of foie gras and an "inside out" egg, in which part of the yolk is replaced by hot truffle stock.
After claiming the 26th spot in San Pellegrino's list of the 50 Best Restaurants worldwide, Azurmendi has just picked up another title: that of best restaurant in Europe according to the latest OAD Top 100 ranking, which is based on the website's survey of discerning and passionate diners.
While a Spanish restaurant may have taken the top spot, France emerges as a clear winner among countries, accounting for 13 of the survey's top 100 restaurants.
According to the survey, Spain's 'Top 100 European Restaurants' were as follows :
1.) Azurmendi Larrabetzu, Pais Vasco
5.) Restaurant Quique Dacosta, Alicante
7.) Diverxo, Madrid
10.) Etxebarri, Pais Vasco
20.) Sant Pau, Barcelona
24.) El Celler de Can Roca, Girona
33.) Arzak, Pais Vasco
38.) Tickets, Barcelona
42.) Elkano Getaria, Pais Vasco
46.) Mugaritz, Pais Vaso
54.) Martín Berasategui, Pais Vasco
79.) Ibai, Pais Vasco
82.) Koy Shunka, Barcelona
Recommended Reading :
* Spain introduces new restaurant law
* Spain sees closure of 27 bars per day during crisis