Just 663 passengers applied for Spaniar refund by Friday afternoon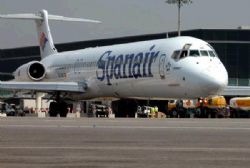 As of Friday afternoon AENA had received a total of 663 applications for a refund of ticket prices from clients of collapsed airline, Spainair.
The Airports Authority advised passengers last week that those affected by the collapse may purchase new tickets to travel or from their destination with British Airways, who have issued special 'rescue package' ticket prices.
The Minister of Development, Ana Pastor, also announced how these 'rescue' flights will be exempt of certain taxes, which will result in the saving of around of 8 euros per ticket.
The deadline for refund requests to be presented is the 14th of February.
Passengers who have bought one of these 'rescue tickets' between Friday, January 27th and February 3rd, with other airlines may seek recovery of come fees by sending an email to vuelosrescateSPANAIR@aena.es.