Corvera Taxi Driver Applications Escalate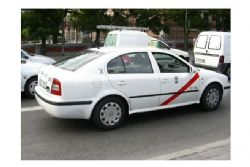 The number of applications for Taxi Licences to take effect once the new airport at Corvera becomes operational, has prompted the Mayor of the town, Javier Iniesta, to tell drivers that negotiations are still ongoing, and that numbers are yet to be finalised.
This comes despite the claim of the region's Taxi drivers that an increase in licences is essential as an aid to help increase the numbers of tourists coming to the region.
A further issue is whether the airport's Taxi drivers will fall under the responsibility of the municipality of the city of Murcia, or shared between other municipalities. The Mayor stressed that his Ayuntamiento would abide by the decision of the regional government.
The President of Radiotaxi, Juan Martinez, concurred, that the taxi drivers of the region would all abide by the final decision of the regional government.