Expatriate Healthcare - Healthcare
Tailored plans dedicated to expatriates living in Spain.
Providing expatriates with the right level of cover and service at an affordable price is something that Expatriate Healthcare is passionate about. That's why we have tailored an affordable product specifically for residents of Spain.
Called the Primario Health Insurance Plan, it offers the benefits of full medical cover not just in your country of residence, but also your country of nationality. The plan includes chronic illness cover as standard and guaranteed acceptance for ages 0-70 years with cover for life.
Because expatriate healthcare is all we do, we are best placed to provide you with a plan that matches your circumstances and budget - protecting you from the high costs of international medical care.
The Plans
Primario más
Our most comprehensive regional product, giving you excellent insurance protection for most non-elective medical treatments, including cover with your Family Doctor, as an Out-Patient, Day-Patient or In-Patient, with cover up to €1,000,000 per annum. Choose to be treated in Spain or at a private hospital in your country of nationality.
Primario
Our comprehensive hospitalisation benefit, providing up to €1,000,000 of cover, ensuring that you don't suffer from any large out-of-pocket expenses for unexpected healthcare needs.
Primario budget
As the name suggests, our Primario Budget plan is our most affordable, designed for the budget conscious.
*The Primario Budget plan only covers you for treatment in Spain
Plan Features
Chronic Conditions

We understand that not all medical conditions can be cured. Chronic conditions usually require you to have regular check-ups, nursing care and routine or daily medication. Thankfully, with the right medical support, many people can live a relatively normal life whilst suffering with a chronic condition. However, the financial implications can be devastating. We support the ongoing routine costs of your chronic condition care as well as a full refund for acute stabilisation.
Complementary Medicine/Therapies

Should you be prescribed complementary treatment, we cover chiropractic help, osteopathy, homoeopathy and acupuncture.
Complications of Maternity

We know that when you are expecting a baby you need to feel confident that appropriate care is available. Once you have been covered by the policy continuously for 12 months, if you become pregnant and there is a complication, we will contribute up to €5,000.
Worldwide Cover

As well as comprehensive cover in your country of nationality and the country in which you are residing, we know how expatriates love to travel. That why we also include worldwide cover for trip up to 30 days in duration.
PLEASE NOTE: Not all the benefits noted above will be available under all of our plan types. Full details and information available upon request.
To find out more information and receive an Exclusive 10% discount for enquiring through Tumbit.com, simply complete our enquiry form below...
Also speak to us about Expatriate Travel Insurance / Expatriate Term Life Insurance / Expatriate Accident and Disability Insurance
So to find out more and get a FREE quote, please visit our website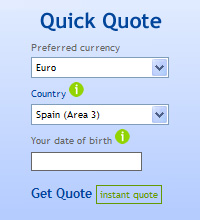 Guaranteed acceptance
We put 'service first'
You will not be required to undertake a medical
Cover is immediate
There are no hospital restrictions
We are here for expatriates 24 hours a day
Comprehensive benefits
Chronic cover as standard
"Guaranteed acceptance for ages 0-70 and cover for life. Starts from as little as €27 per month."