Spain draws more than EUR6bn demand for bond deal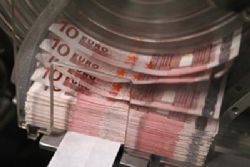 Spain has attracted demand in excess of EUR6bn for its first syndicated bond in almost a year in a sign that investor confidence is returning to eurozone peripheral sovereigns.
Spain hopes to raise between EUR2-3bn from the tap of the 5.85% January 2022 bond, according to Reuters.
Lead managers Barclays Capital, BBVA, Deutsche Bank, Goldman Sachs, Santander and SG have set final guidance at mid-swaps plus 300bp - equating to 35bp over the Kingdom's outstanding April 2021, in line with initial price thoughts - and are on track to price the deal later on Wednesday. Books closed at 14:30 GMT.
It is the first time that Spain has issued a syndicated bond since March 2011 when it raised EUR4bn through a 15-year bond.
"This is nicely conservative," a syndicate banker away from the deal said. "Appointing six lead managers and doing a tap rather than a new deal should ensure that this is a success."
Auctions have been Spain's only funding option for some time as its yields rose to alarming levels causing real-money investors to shun its debt. Spain had intended to sell a 10-year syndicated deal post-summer 2011, but it failed to surface.
One source close to the issue said the syndication was an "attempt to improve the quality of the bond's distribution and that it was a good opportunity considering the momentum in the market right now."
In recent weeks, bankers have been more upbeat about Spain's prospects following several well-covered auctions that have allowed it to complete about 20% of 2012 funding requirements. Meanwhile, 10-year yields have dropped back down to much more substainable levels and closed at 5.04% on Tuesday.
According to Tradeweb, the outstanding EUR7.4bn January 2022 is bid at about 23bp over Spain's 2021 bond, indicating a concession of about 10bp for the tap.
"It looks like a good price," said another syndicate banker away from the trade. "The market is in risk-on mood with a decent sell-off in Bunds so it's the right time to do a trade. It will be a big tap at EUR2bn to EUR3bn, but the market is in good shape to absorb that."