Government clamp down on civil servant absenteeism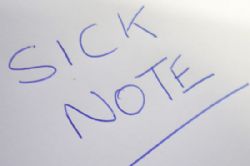 The Government has suggested that civil servants should not receive their full salaries during periods of absenteeism.
As part of their on-going reform, proposals have been sent to the European Commission for approval, where if accepted employees access to sick pay and temporary disability pay may be limited during the first 90 days of absence from work.
It is also proposed that salaries will not be paid in cases of unjustified absence or in cases where the employee fails to attend a medical examination at the request of the employer.
The Government notes that there is a much higher rate of absenteeism in the public sector than the private sector - much of which is unjustified - and which has a negative affect on work productivity and places an unfair burden on colleagues covering any absence.