Euro zone unemployment equals record high in March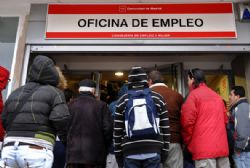 Unemployment in the euro zone rose to 10.9% in March, equaling the record high of 15 years ago, data showed on Wednesday, driven by rises in Italy and Spain.
The jobless rate in the 17 nations using the single currency increased by 0.1% point from February, as expected by economists polled by Reuters.
The unemployment rate was also 10.9% in February, March and April 1997. It has never risen above that in data stretching back to the start of 1995.
In the wider 27-nation EU, unemployment was steady at 10.2%, equivalent to some 24.8 million people.
A number of euro zone members are in or on the verge of falling back into recession.
Some European countries are threatened by a negative spiral of austerity measures, forced on governments by the debt crisis, which undermines consumer and business confidence and growth and requires even further budget cuts.
Spain indeed sank back into recession during Q1, according to data issued on Monday. Its unemployment rate hit 24.1% in March, a level not seen in euro zone data stretching back to 1986.
Within the euro zone, unemployment also rose in Cyprus, Italy, the Netherlands and Portugal. It was unchanged in Belgium, Finland, France, Germany, Luxembourg and Malta and fell in Austria, Ireland, Slovakia and Slovenia. There was no data for Estonia and Greece.
On Friday of last week the National Institute of Statistics (INE) revealled how unemployment in Spain currently stands at an 18 year high of 24.6% .