Bolivia follow Argentina in seizing control of Spanish companies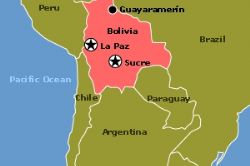 Following Argentina's recent example in seizing control of YPF from Spain's Repsol, the Bolivians have jumped on the bandwagon.
The Bolivian President, Evo Morales, has ordered his Army to assume control of 'La Transporta Electricidad', 99.4% of whose shares are owned by by Spain's REE Red Electrica Espanola, and who operates and owns 73% of the electricity infrastructure in Bolivia.
Morales called the move "A just homage to the Bolivian people who have fought for the recovery of the resources", and maintained that he would pay a fair price to REE to the value of what they had invested in the country.
The Spanish Government issued a statement saying that it was simply studying the move and considering any action to be taken, especially concerning the Military intervention emplyed by the Bolivians.