Bankia chief Rato steps down as Spain readies bailout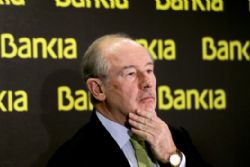 Rodrigo Rato stepped down on Monday as chairman of ailing Spanish lender Bankia, helping to clear the way for a rescue plan that the government hopes will persuade international investors of the country's financial stability.
The former IMF chief departed from Bankia as Prime Minister Mariano Rajoy opened the door to using public funds for helping troubled banks, after previously ruling this out, striving to overhaul a sector that threatens the country's finances and ultimately the euro zone.
"If it were necessary to get the credit to save the Spanish financial system I would not hold back from doing what other European Union countries have done - loan them public money - but it would only be as a last resort," Rajoy said in a radio interview on Monday.
Rajoy did not mention Bankia, but two sources said the state will provide 7 billion to 10 billion euros in aid to the lender, which is saddled with toxic real estate assets that put it at the heart of concerns about the cost of a Spanish bank bailout.
Bankia chief Rato, who is also a former minister for the ruling centre-right People's Party ( PP), was asked to stand down so that the rescue would not seem like a PP favour for a political ally, one of the sources said.
Rato, who managed Bankia's stock market debut last year, said in a statement he would hand over to Jose Ignacio Goirigolzarri, a former chief executive of major Spanish bank BBVA.
Two government sources said state money would be injected into Bankia - an agglomeration of local savings banks or "cajas" - through the purchase of bonds known as CoCos, or contingent convertibles, that can be converted into shares.
The manoeuvre may increase Spain's public debt-to-GDP level this year, as the government would have to raise debt to buy the Bankia bonds. But since Bankia has to pay back the CoCos at market rates, it would not be calculated as spending that weighs on the public deficit.
HIGHLY EXPOSED
Cash from the CoCos would be used to clean up the banking and real estate activities currently held by Bankia's parent group BFA. These activities would then be absorbed by Bankia and BFA would stop operating as a bank, one source said.
The move aims to clarify the group's structure and reassure investors that the bank - which holds around 10% of Spanish deposits - won't push Spain to seek an Irish-style international bailout to recapitalise its lenders.
Bankia is Spain's 4th biggest bank by assets and has already received more than €4 billion in government aid. Bankia and BFA are together the most exposed of any Spanish lender to troubled real estate assets, with €31.7 billion of exposure compared with a sector total of €184 billion.
Bankia and BFA have recognised losses of 37.5% or €11.9 billion, on these assets, which include loans to property developers as well as property that was collateral on loans that went bad. But many banking analysts say the losses could go deeper.
The fresh injection of up to €10 billion will allow Bankia to clean up troubled assets, cushion against further losses in the future and also meet European banking capital standards for solvency, the sources said.
Sources said a government announcement on Bankia could come on Friday once Rato's successor is in place.
"The objective is to send a strong signal to the markets and also to the International Monetary Fund and other international partners that the (Bankia) plan is ambitious and strong and will complete our ongoing banking reform," one of the sources said.
The Bankia rescue will dovetail with a wider plan to create a so-called bad bank to park and eventually sell off toxic real estate assets held by the banks. Rajoy said he would announce the details of the wider bank reform scheme on Friday.
The Bank of Spain and Bankia declined to comment.
CLEARLY NEGATIVE
Bankia's shares fell 3.26% to 2.375 at the market close, making it the session's worst performer on the blue-chip index. Spain's country risk, as measured by the spread between yields on Spanish and German benchmark bonds, jumped to about 429 basis points before coming back to 413 bps.
"This news seems, however, to be positive for the Spanish banking sector overall, because it seems that a cleanup at Bankia will take place with public money and not be paid (for) by other banks," sai d Maria Lopez, analyst at Espirito Santo.
The Spanish government has been financing some of the cleanup of the sector through yearly contributions that all the banks make to a deposit guarantee fund.
Spain has already spent €18 billion to clean up its financial sector, and has forced banks into dozens of mergers - including those which created Bankia - and to recognise more than €50 billion of losses on property exposure.
Rajoy's PP has a majority in parliament, so he should not have trouble pushing through a Bankia bailout. But news of the use of public money provoked a political row at a time when almost 25% of Spanish workers are jobless and social services are being cut under harsh austerity measures.
"No one will understand why there is money for banks but not for hospitals and schools," said opposition Socialist leader Alfredo Perez Rubalcaba.
Rajoy's first banking reform, announced in February, has failed to convince markets that the banks have recognised sufficient losses after the bursting of a 10-year real estate bubble. The previous Socialist government had already enacted two earlier reforms to clean up the banks.