Spain's Rajoy says still pushing for alliance with Socialists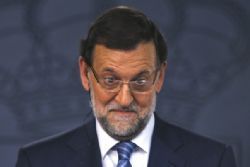 Spain's acting PM Mariano Rajoy said on Saturday he was still pushing to try and form a political alliance to govern with the left-wing Socialists and centrist party Ciudadanos, a day after deferring a confidence vote in parliament.
Rajoy, of the centre-right Partido Popular, stunned rivals on Friday by saying he would not seek a confidence vote to try and form a government, as he lacked the necessary support from other parties after a highly-splintered election result on Dec. 20.
He had been expected to agree to go through with the vote after a round of talks with King Felipe, which will now resume on Wednesday. Rajoy said an alliance between the PP, Socialists and Ciudadanos was "the most reasonable option."
"That was our view (before) and it is still our view," Rajoy said in a televised address from a party meeting in Cordoba.
Recommended Reading :
* Rajoy prepares PP for failure of PSOE deal offer
* Rajoy : "I will be the PP candidate if new lections are held"