Industry Minister Named In Panama Papers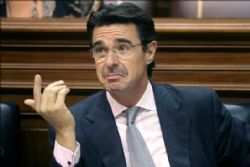 Acting Industry Minister for Spain José Manuel Soria has become the latest high profile name in politics to be named in the Panama Papers.
It is alleged Soria of the PP political party, had an offshore based company called UK Lines Ltd setup by Mossack Fonseca, the Panamanian based law firm who's data leak unleashed millions of documents to the world about its business dealings, clients and processes.
Soria, who has flatly denied any wrong doing, joins an elite of individuals in Spain who have also been exposed as using the offshore entity to avoid taxation at home.
Film director Pedro Almodóvar and his brother Agustín, King Felipe VI's aunt Pilar de Borbón, and the German-descended aristocratic Thyssen dynasty are some of the many names identified in the leaked documents.
The Almodóvar brothers have also denied any connection to the Mossack Fonseca exposé and threatened legal action against anyone who suggest they are linked.
Barcelona striker Leo Messi was also named in the documents and has admitted he did once own a company based in Panama under advisement of his accountants. He has recently paid outstanding tax debts to Spain and his native Argentina following revelations he avoided tax by setting up a similar company to stash image rights revenue.
It is important to bear in mind that whilst individuals are being exposed through the "Panama Papers", they may not necessarily have committed any crime per say. Especially if their dealings have been properly reported to the relevant tax authorities at home.
Yet, it seems like hardly a week goes by without new revelations of corruption, tax avoidance/evasion or some other kind of unethical behaviour by high profile or political figures in Spain. You could almost be forgiven for thinking its a national sport or obligation.