Adios to Spanish Siesta on the Cards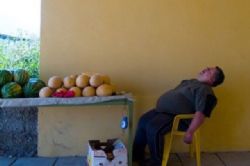 The Spanish tradition of the siesta (afternoon nap) could soon come to an end as political parties promise to overhaul the world famous pastime and drag the nation into the 21st century.
Spain is currently set to Central European Time (CET), a full hour ahead of the UK despite being on the same timeline meaning it should really be on GMT. However, during World War II, Spanish dictator General Francisco Franco switched the nation to CET to match the time with his ally Adolph Hitler and Germany.
Many European countries did the same to align the working day with Germany so people could get home before the blackouts. After the war nations switched their times back, yet Spain didnít meaning the nation has been living in a kind of jet lag for more than 70 years.
As a result working days are longer and misaligned with their European neighbours, lunch and dinner times are later and ultimately employees are fairly washed out the following day and longing for the siesta perpetuating an endless cycle.
Acting PM Mariano Rajoy recently noted that lunch times are taken late in Spain because whilst the siesta begins at 2pm, itís actually 1pm for GMT countries. If it wasnít late, the nation would be eating around 1pm Spanish time instead.
Likewise, Spain effectively closes for business during the siesta period. Very few businesses remain open during the siesta and those that do, have very few staff available to help customers locally or internationally, drawing criticism that Spain is unable to compete effectively in the globalised economy.
Many visitors, tourists and international businesses struggle to comprehend the siesta. Typically, the siesta begins at 2pm and ends around 5pm or sometimes even later. In many cases, the working day ends around 8 or 9pm. Evening meals are often consumed around 10pm meaning individuals, including children, donít get to bed until well after midnight throughout the week.
Rajoy wants to introduce a more balanced work-life relationship by returning the country to GMT and harmonise the working day in line with other European countries who usually have a 9am to 5pm working day with an hour for lunch around 1pm which would effectively bring to an end the siesta.
Itís worth pointing out, the Canary Islands use the same time zone as the UK. However, this is politically motivated and technically should be and hour ahead of the UK.