Alicante Airport Records 837k Passengers in March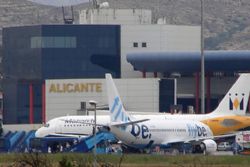 Alicante airport has recorded 837,094 passengers flowing through it's terminal in March 2016 marking a 25.1 percent increase over the same month in 2015.
Figures released show that 116,125 were domestic passengers, whereas 719,712 were international passengers showing an increase of 7.9% and 28.4% respectively compared to March 2015
The report also highlighted countries which accounted for the most international passengers. Unsurprisingly, the United Kingdom topped the list with a staggering 333,701 passengers followed by Germany with 62,329, Norway 56,780; Holland 51,183; Belgium 41,620 and Sweden with 30,213.
Overall, the airport handled 5,905 flights in March which represented an increase of 24.7 percent over the same month last year.
Flight handling data by country reveals 2,030 operations where related to the UK, whilst operations related to Spain hit 1,246. Operations relative to Germany reached 376, Norway with 340 operations, Holland with 316 operations, Belgium with 307 operations and Algeria with 200 operations.
But what does this all mean?
Put simply, overall passenger numbers and flights have increased substantially signalling Spain is set to have a very good year in 2016 for visitor numbers. Admittedly, not all passengers will be tourists, but it does represent confidence in Spain is increasing and people are choosing Spain over other holiday hotspots.
Whilst we have no figures for UK travellers in March 2015, the huge number of travellers from the UK could well be attributed to the poor weather in the UK and non-EU British favourites like Turkey, Tunisia and Egypt falling out of favour given the high threat of terrorism and the memory of the deadly "lone-wolf" beach attack in Tunisia last year.
Earlier this year, travel companies issued warnings over scarce availability in Spain. Ryanair advised would be passengers to book early as many of their flights were already sold out. Flight and accommodation prices for summer 2016 are already abnormally higher than usual which may have encourage people to travel in March rather than bear the excessive expense of June-September.
Alicante airport is a popular airport for many tourists who seek plenty of sun, sea and sand at a resonable price. The airport is roughly 30-45 minutes away from British and German favourite Benidorm and 40-50 minutes from Murcia holiday hotspots.
First quarter data for the airport tells that 2,040,684 passengers travelled through Alicante airport and there were 15,017 flights. An incredible increase of 22.1% and 21.7% respectively, over the same period in 2015.