Manos Limpias Head Arrested For Corruption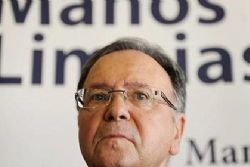 An unexpected twist occurred on Friday in the national sport of corruption as the head of the anti-corruption organisation, Manos Limpias, was himself arrested, for corruption...
Miguel Bernad was arrested at home by anti-corruption officers investigating allegations of coercion, extortion, racketeering as well as several other crimes. NINE other people were also arrested in connection with the same investigation.
Investigators say Manos Limpias has been investigated recently for various similar cases involving demanding money in exchange for dropping prosecutions against high-profile companies and public figureheads.
In Spain, prosecutors need to sanction a criminal trial. However if they fail to take action or refuse, private individuals and organisations, such as Manos Limpias, can also bring criminal proceedings to court.
An ongoing criminal trial against the Infanta Cristina de Borbón, sister of King Felipe VI of Spain, was brought to court by Manos Limpias after prosecutors refused to take action.
The Infanta stands accused of corruption for her alledged role in a tax fraud and public fund embezzlement scam by her husband, Iñaki Urdangarín.
Revelations of their alleged involvement in the racket has already stripped them of their official Duke and Duchess of Palma titles.
Cristina's solicitor claims that Miguel Bernad offered to scrap the law suit against the former Duchess of Palma if La Caixa and Sabadell banks paid him €3 million.
The investigating judge in the Infanta's trial, connected to the Noos trial involving her husband, Santiago Pedraz, is not believed to be seeking suspension of cases brought by Manos Limpias, however there is speculation that these latest developments could set a legal precident which may see the case against the infanta dropped.
In another twist, Luis Pineda, head of banking consumer group AUSBANC was also arrested under similar allegations. Both Pineda and Bernad are also thought to have avoided paying taxes on their earnings.
Former banks, Caja Madrid and BBVA have alleged they were blackmailed into paying for advertising in AUSBANC's publications to avoid bad press being written about them.