Spain Calls in Argentina Over Gibraltar Sovereignty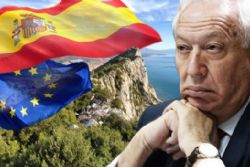 Spain has called upon Argentina for support in wrestling the soverighnty of Gibraltar away from the UK post Brexit.
The move, which comes ahead of the Ibero-American summit in Colombia, signals a heightened push by to Spain to take control of The Rock.
The caretaker Spain government has submitted a proposal to Colombia, the summit host, to approve a special statement on control of the Rock.
The statement would need to be approved by all members of the summit and is also expected to call on the UK to solve the dispute over the Falkland Islands with Argentina through bilateral talks.
Earlier this month, Spanish diplomats presented a fresh case for co-sovereignty to the United Nations on the basis of helping Gibraltar to secure access to the EU after any UK from the EU.
The suggestion was quickly rubbished by Gibraltar and UK diplomats who stated these things could happen now via the once successful Trilateral Forum, but Spain withdrew from the forum as soon as the PP came to office and has since done all it can to cause economic and personal misery to Gibraltarians and Spaniards alike.
Around 20,000 people cross into Gibraltar everyday from Spain to work, most of which are Spanish nationals.
UK Foreign Secretary Boris Johnson has flatly refused to enter into any discussions over the sovereignty of Gibraltar. A position supported by Gibraltarians and UK nationals alike.