Catalonia to Call Referendum Split from Spain Friday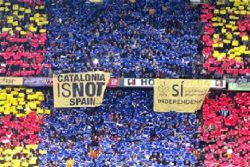 THE REGIONAL GOVERNMENT of Catalonia is to call an independence referendum on Friday, setting on a collision course with Madrid lawmakers.
A spokesman for the regional leader, Carles Puigdemont, said a date will be set for the secessionist vote, widely expected to be at some point shortly after the summer.
Madrid has been steadfast in its refusal to authorise an independence referendum, describing it as ďunconstitutionalĒ.
Previous attempt to hold a referendum have been blocked by Spainís Conservative government who appealed to Spainís Constitutional Court.
Pro-independence support surged during the financial crisis by Catalonians who felt they were subsidising the rest of Spain through complicated budget transfers, yet receiving very little back.
Catalonia accounts for roughly 20% of Spainís economic output.
However, support for independence has waned substantially as Spain returned to growth, prompting the majority of Catalans to prefer the status quo.
Yet despite this, a majority of Catalans do want to have a referendum on the question of independence and secession from Spain.