C.bank show of unity fails to clip Euribor rise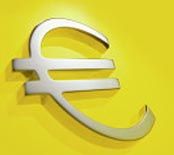 Key euro-priced bank-to-bank lending rates edged higher on Friday as concerns about the ability of the euro zone to handle the sovereign debt crisis continued to weigh on money markets.
The three-month Euribor rate - traditionally the main gauge of unsecured interbank euro lending and a mix of interest rate expectations and banks' appetite for lending - rose to 1.535 percent from 1.531%.
Six-month Euribor rates rose to 1.736% from 1.734%, while 12-month rates ticked up to 2.068% from 2.066%.
Shorter-term one-week rates followed suit, rising to 1.111% from 1.089%. Overnight rates fixed on Thursday at 0.952%%, up from 0.930%.
The rises come despite huge amounts of excess liquidity - currently 143 billion euros, according to Reuters calculations - putting downward pressure on markets.
On Thursday a group of five major central banks teamed up in a bid to head off a build up of tensions in dollar money markets, a move which will see European banks offered a trio of 3-month dollar injections.
It came after downgrades to some of Europe's major banks and after two undisclosed banks tapped the ECB for dollar funding this week, the second time in a month the normally-expensive facility has been called into action.
The worsening euro zone debt crisis has seen many banks to stock up on ECB euro funding. They took 164 billion euros in one-week funds this week, well above the 135 billion traders had expected, and added an extra 54 billion in one-month liquidity.
The intensification of the crisis has already forced the ECB back into emergency mode. Last month it reintroduced six-month euro funding, a measure it had previously mothballed, and extended limit-free funding in all its lending operations up until mid-January.
Last week it also signalled a shift in its interest rate policy, unceremoniously abandoning its rate hike ambitions.
Euribor futures show markets now see a good chance the ECB may revert back to rate cuts as early as next month.
It is also back buying sovereign bonds again. It has spent roughly 70 billion euros since reactivating the purchases early last month, which now include the bonds of Italy and Spain, two of the euro zone's biggest economies.
Euribor rates are fixed daily by the Banking Federation of the European Union (FBE) shortly after 0900 GMT.