Rajoy gives clues to economic policy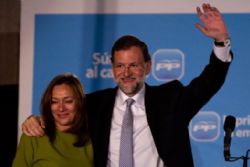 Mariano Rajoy spoke to the press this weekend to give some brief insights into his likely policies for the regeneration of the economy.
The announcement came two weeks after the leader of the Partido Popular was voted in to be the country´s new Prime Minister, will take control of the new Government later this month.
"We have to control spending, not to live beyond our means and not spend what we don't have," he told PP party members in his home town of Pontevedra, Galicia.
In justifying his absence from the media spotlight over these last two weeks, he commented : "I haven't been able to stop. I've had to speak with a lot of people and to prepare plans for the near future."
Rajoy went on to say how the responsibility for regeneration the economy of the country was the responsibility of everybody : "To move forward is not just the task of the government, but of the whole nation," he said.
The new PM alluded to the forthcoming European People's Party meeting, due to be held in Marseille later this week : "I am going to talk personally with the most important European leaders to get to know our position."
However, Rajoy gave little away with regards to his plans : "We're working so that financial organizations, small and midsized businesses, the self-employed and families can get financing at reasonable prices to allow the economy to start growing and begin to generate employment.
"Things aren't going to be easy but we are clear in our ideas. We are going to try to speak to everybody, but we also have to take the decisions that we make quickly and with precision," he added. Rajoy also said that he was happy to be back where he first started out in politics: "I'm glad that my first public appearance after election night is here in Pontevedra, a city where I was very proud to be a councilor."
Once again Rajoy refused to take questions from reporters. "This is not a political event, but more of a personal one," he pointed out.