Spanish yields fall on short covering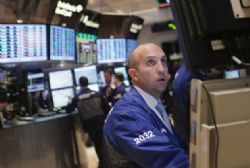 Spanish government bond yields fell on Monday, reversing part of a sharp rise in borrowing costs last week, with traders citing an appetite to book short-term profits despite a negative outlook.
Spanish 10-year yields fell more than 15 basis points. Traders said investors bought the bonds to close out profitable short positions after a sharp rise in yields in the previous week. Spain and Italy are due to issue bonds this week.
Italian 10-year bond yields had also fallen earlier, but stabilised in late trade with the 10-year Italian/German government bond yield spread widening 3 basis point on the day to stand at 531 bps in late European trading.
"We wouldn't be surprised to see a bit more cautiousness ahead of the auctions but on the other hand we are not seeing more selling pressure, which might be an indication that the necessary price concessions are more or less in the price already," Rainer Guntermann, strategist at Commerzbank.
Bond prices typically fall ahead of an auction as dealers clear space on their books for the influx of new debt.
Spanish yields shed 15.5 bps to 5.6%, but 10-year Italian government bond yields remained above the psychologically important 7% level - above which funding costs are perceived to be unsustainable over the long-term.
Spain and Italy will be closely watched in the run-up to their first debt auctions of the year, with little sign investors have started 2012 any keener to buy the countries' bonds than they were in 2011.
Some analysts expect the short-term maturity of some of the bonds to be sold and the European Central Bank's liquidity injection in December to provide a favorable backdrop for the debt sales. But demand is expected to come from domestic banks which traditionally provide much of the bidding for Italian and Spanish bonds, analysts have said.
"The main focus is still the Italian and Spanish supply. While we've got that lurking over us I think the market is likely to still be a little bit wary," said Eric Wand, strategist at Lloyds Bank in London.
SAFETY-BID
The German Bund future saw a settlement close of 139.10 - up 26 ticks on the day and within sight of the record 139.58 hit in November.
After nearly 11% gains in 2011, volumes have remained thin so far this year, making trade volatile. The Bund future traded in negative territory earlier.
Technical charts from Commerzbank showed Bunds remain in a broadly bullish channel defined over the last 4 months, with the risk of a break to new highs at the upper extreme, which comes at 140.19 this week and extends to 140.26 next week.
Demand for safe-haven assets was also evident at a sale of German bills, where investors paid to lend to Germany. On Monday, yields went negative for the first time at a regular auction, sliding to -0.0122% compared with a positive return of 0.001% at a similar auction in December.
Greece's intractable debt problems also offered support for the currency bloc's safest debt. The country may face bigger write-downs on its debt than the 50% already proposed.
Germany and France warned Greece on Monday it will get no more bailout funds until it agrees with creditor banks on a bond swap and pressed for an early deal to avert a potential default in the euro zone's most debt-stricken nation.