Spain Income tax hike to remain in place in 2014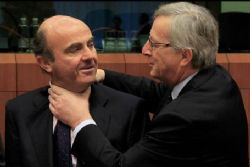 Economy Minister Luis de Guindos today announced how the increase in personal income tax - approved as part of the government's austerity drive - is likely to remain in place in 2014.
Just 1 weeks ago the PM suggested that the increase, which adds €6.5 bln a year to state revenue, could be reversed in 2014.
"The primary objective of Spain is to reduce the public deficit," De Guindos told reporters after a meeting of European economy and finance ministers in Brussels. "This is absolutely priority. We have to look at the development of the deficit in a far from benign environment, with a recession in the whole of the euro zone."
The EU commissioner for economic and monetary affairs, Olli Rehn, urged Spain to start readying the budget for 2014 at the last G20 meeting. The Commission last week predicted that the deficit in 2014 would increase to 6.4% from 6.0% in 2013 due to the fact that a number of measures introduced by the government to address the shortfall were of a temporary nature.
De Guindos insisted that the recent renewed pick-up in Spain's risk premium was not due to the weak outlook for the economy this year and the next, nor the expected failure to meet the deficit targets, but to concerns regarding Greece. "The risk premium has risen over the past few days because of the situation in Greece; the proof of this is that not only has Spain's risen, other countries have the same problem."
The euro zone put off until next Tuesday deciding on a solution for Greece's financial woes. De Guindos estimated Spain's exposure to Greece to be at €25 bln, including Spain's contribution to European rescue funds, as well as guarantees and bilateral loans.