28 Arrests as General Strike Underway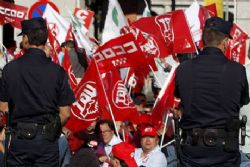 Government sources have reported how around 28 protestors have been arrested in Madrid this morning, with many more being injured as Spain's 9th ever General Strike since returning to democracy began.
Portugal has also joined today's strike in protest over rising unemployment and unpopular austerity measures which have seen numerous cuts to public spending.
Spain's major CCOO and UGT workers unions have reported how they expect representatives of 40 trade unions in 23 countries will join the strikes, with Protests also being planned to take place in support of the movement outside the headquarter of the European Commission, in Brussels, later in the day.