Spain "Can manage without ESM"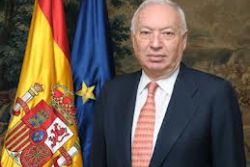 Spain will be able to pull away from the crisis, which the country has been experiencing for the last 5 year, without requiring any financial assistance from the euro zone's European Stability Mechanism bailout fund, according to the Spanish Foreign Minister.
FM Jose Manuel Garcia-Margallo was quoted yesterday in an interview with German magazine 'Focus', adding that it is "essential" that the European Central Bank has the power to influence financial markets and lower Spain's borrowing costs.
"The ESM should never be the key route out of the crisis."