Spanish Economy expected to grow 0.7% next year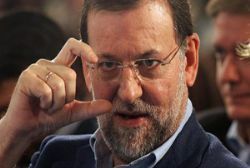 The Spanish economy is expected to grow by 0.7% in 2014 after contracting 1.5% in 2013, the Spanish Saving Banks Foundation (Funcas) said on Thursday.
Although the 2014 growth figure is 0.1 percentage point higher than its previous estimate, the projections are largely in line with that of the other sources.
The Spanish government reported in April that the Spanish economy would contract by 1.3% in 2013 and grow by 0.5% in 2014. The European Commission predicted that the Spanish economy to contract by 1.4% this year while growing by 0.8% in 2014. Meanwhile, the IMF said it will contract by 1.6% in 2013 while expanding by 0.7% in 2014.
Funcas also predicted an unemployment rate of 26.9% for 2013 and 26.6% for 2014.